Aims & Scope
Materials Science-Poland online ISSN: 2083-134X (est. in 1974 as Materials Science, ISSN 0137-1339) is an interdisciplinary journal devoted to experimental research into results on the relationships between structure, processing, properties, technology, and uses of materials.


RESEARCH TOPICS: iron alloys, aluminium alloys, copper alloys, titanium alloys, magnesium alloys, nickel alloys, thermoplastics, thermoset resins, elastomers, polymers, composites, ceramic and glasses, coatings, semiconductors, optoelectronic materials, biomaterials, lubricants, concrete, advanced modern materials, high-tech materials, new technologies in materials, nanotechnology, sol-gel materials.
All submitted papers should describe original or innovatory research, optimally indicating their potential applications (survey studies and review articles are accepted).
IMPACT FACTOR 2021: 0.889
5-year IMPACT FACTOR: 1.278
CiteScore 2021: 1.7
CiteScore Tracker 2022: 1.2
SCImago Journal Rank (SJR) 2021: 0.222
Source Normalized Impact per Paper (SNIP) 2021: 0.361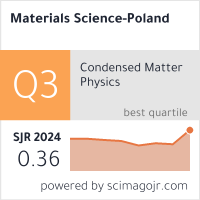 The review process for submitted papers is a blind peer review.


The total publication fee is 500 EUR.
Abstracting/Indexing
Materials Science-Poland is covered by the following services:

• Arianta
• Baidu Scholar
• BazTech
• Cabell's Whitelist
• Chemical Abstracts Service (CAS) - CAplus
• Chemical Abstracts Service (CAS) - SciFinder
• CNKI Scholar (China National Knowledge Infrastructure)
• CNPIEC - cnpLINKer
• Dimensions
• EBSCO (relevant databases)
• EBSCO Discovery Service
• Ei Compendex
• Engineering Village
• Genamics JournalSeek
• GoOA
• Google Scholar
• IBZ (International Bibliography of Periodical
   Literature in the Humanities and Social Sciences)
• Inspec
• Japan Science and Technology Agency (JST)
• J-Gate
• Journal Citation Reports/Science Edition
• JournalGuide
• JournalTOCs
• KESLI-NDSL (Korean National Discovery for Science Leaders)
• MyScienceWork
• Naver Academic
• Naviga (Softweco)
• Paperbase
• Pirabase
• Polymer Library
• Publons
• QOAM (Quality Open Access Market)
• ReadCube
• Reaxys
• SCImago (SJR)
• SCOPUS
• Semantic Scholar
• Sherpa/RoMEO
• TDNet
• TEMA Technik und Management
• Ulrich's Periodicals Directory/ulrichsweb
• WanFang Data
• Web of Science - Science Citation Index Expanded
• WorldCat (OCLC)
• X-MOL



Submission
To submit a new manuscript to our Editorial Office, please go to the Editorial Manager, available on the following webpage:



For more details please, refer to the Article Submission section.


Thank you for submitting your manuscript to
Materials Science-Poland
Publisher:
Sciendo
Owner:
Wrocław University of Science and Technology